Overview
The One Room Round Robin mods for Grimrock 1 were a chance for mod-makers of all skill levels to come together and make an awesome mod - one room at a time. The idea is simple, we start a new mod and pass it around and each modder gets to add one room or small area. First time modders and seasonsed pros are all welcome to take part.
This is open to everybody - even if you have never modded before you are free to take part! Taking part is as simple as replying and saying you are interested.
Details
Most of the maps have been mocked up now, apart from the 'Dark Tower', as the floor plan depends on the number of modders we have. Most importantly, the overview shows you the general lay of the land...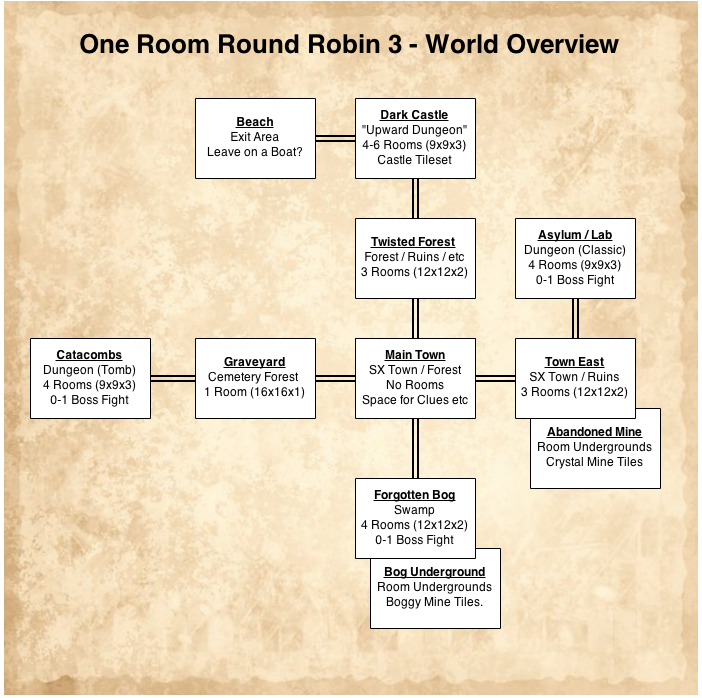 You can see images of the floors in the map by
Clicking Here
Each room will house an item (probably a gem, but not 100% sure yet). The player will need to collect 3 out of 4 items from an area/dungeon in order to "complete" that dungeon. If the players complete all 4 rooms, they will basically have a "left over key" they can trade for treasure. This means there is an incentive to do all of the rooms, but players can skip a hard one here and there and still finish the mod.
Rules
Just post your name and a room number below to claim it. Let me know if you want to go sooner or later too.
Each modder will have the file for 1 week. If your room will take longer, please mock it up in your own file before hand and use the week just to integrate it.
You do not have to fill the entire space assigned to your room if you don't want to (most rooms will be 2 or 3 floors, but you can use only 1).
The only real requirement is that you put the pre-requisite item in the room somewhere as a reward.
When it is your turn, I'll send you the file over Dropbox. Please add your changes and send it back.
Nothing is set in stone. If you pick an outside room but someone else really wants one for their idea - you are free to switch. Just let me know.
You can add whatever you like to the mod, but each designer is limited to 3Mb of custom content (sorry!). We need to be under 100Mb to fit on Steam. Exact space will depend on the number of modders.
Please, please, please export and test your dungeon before sending it back!
Guidelines Document:
Click here to read the Room Designer Guidelines